What is the new FDA labeling requirement?
The U.S. Food and Drug Administration (FDA) has made significant changes to food, beverage and supplement labeling, which requires disclosure of certain nutrition information for standard menu items in certain restaurants and retail food establishments. The nutrition labeling requirements of the rule apply to standard menu items offered for sale in covered establishments. "Standard menu items" means restaurant-type food that is routinely included on a menu board or routinely offered as a self-service food or food on display.
This includes menu items from sit-down, take-out, self-service food and food ordered from a menu or menu board at a grocery store. Self-service foods include more than just buffets and salad bars. Bakery items such as donuts and muffins that customers take from a case and fountain drink machines available to customers are also covered by the rule.
Who will be impacted by the new FDA label requirements?
Restaurants, convenience stores and supermarket deli and bakery departments will be required to post nutritional information. The law states that these establishments must post nutritional information if they are part of a chain of 20 or more locations operating under the same name.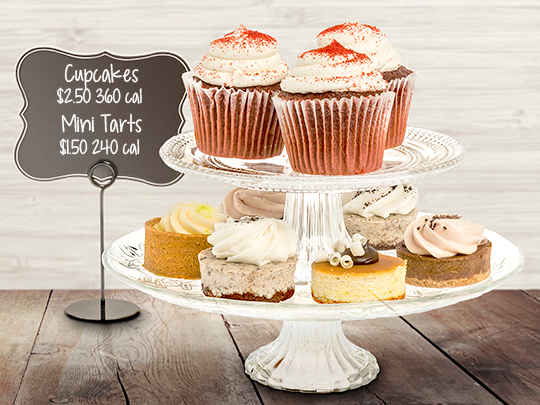 Cupcake sign with calories listed shown here. Expressly Hubert® 360 Flex Temp Merchandising Tag and Black Wire Signholder