2

Protect Hands With the Right Glove

OSHA estimates that hand injuries cost the food service industry about $300 million per year in workers' compensation costs and lost work time. Hubert can help safeguard your staff from unnecessary injury.

Whether they are slicing veggies, pulling out a hot pan or handling raw meat, using the correct glove is essential to keeping your kitchen environment safe.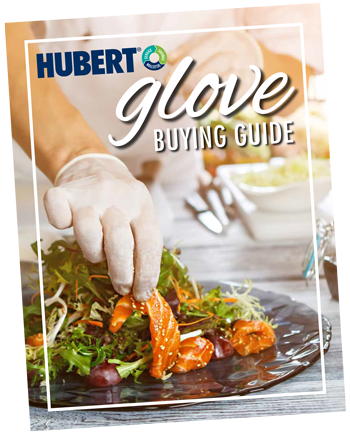 Learn more about glove materials and features in our Glove Buying Guide.
Five Must-Have Food Service Gloves:
3

Prevent Cross-Contamination

If space allows, create dedicated prep zones in your commercial kitchen to help avoid cross-contamination. For example, one area to prep meat, another for produce, another for seafood, etc.

Using color-coded tools, such as knives and cutting boards, is an effective way to create contamination-free prep stations. Colors are often used to identify certain food groups, which minimizes the risk of cross-contamination. Below are the suggested food types to be used with each color.
Yellow: Poultry
Red: Cooked Meats
Green: Fruits and Vegetables
White: Bakery/Dairy
Purple: Allergen Awareness
Make sure everyone working in the kitchen knows the color-coded system by hanging a reference guide where employees can refer to it easily.
Shop Cutting Boards and Knives.
4

Sanitize Regularly

What customers see and regulators say matters. An effective sanitation program is necessary to the overall success of any food handling operation.

Arm Your Team for Success:
Make sure cleaning and sanitizing supplies are available to the people doing the job
Know how equipment and other items should be cleaned and sterilized
Understand how your chemicals work and what compromises their effectiveness
Establish standards for cleaning and sanitizing
Use the right personal protective equipment (gloves, goggles, aprons, etc.)
Have a plan in place to take corrective action when necessary
Hubert has all the cleaning supplies & tools you need to stay clean and compliant.